Hair Extension Classes for Cosmetologists in the Tampa, FL, Area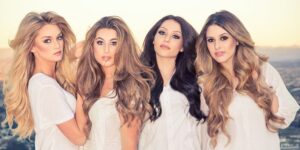 Hair extension classes are available in Tampa, Florida, at Eyes on You Salon and Spa for any cosmetologists looking to expand their service offerings. Our owner and senior stylist Tamara Veit is proud to offer full training and certification to qualified participants. Tamara has been in business since 2003 and regularly attends continuing education courses worldwide, and is always up-to-date on the latest techniques and trends. By receiving your certification through Eyes on You, you will be able to create stunning, custom looks for your guests like you never could before.
When you turn to Eyes on You in Tampa for your hair extension classes, you can expect to receive an informational booklet and starter kit, as well as extensive training on the following:
The various types and brands of extensions
Texture and custom color matching
Hands-on experience with a wide range of application methods, including Keratin-Bond, Tape-In and I-tip extensions
Sectioning techniques and perimeter placement
Trending styles and application techniques
Proper maintenance and client education
Proper removal
Health, safety, and sanitation
Please do not make the mistake of assuming that hair extension application can be learned solely by watching videos on the YouTube! Proper application and the best results can only be learned through hands-on training from a trained, licensed, and certified professional. We hope to see you at Eyes on You as you take the next step in expanding your skill base and service offerings.
We're looking forward to helping you achieve your certification to benefit from this booming opportunity.
Call or click to schedule your training course and certification with the extension specialists today!
800-204-1323
Location: 1902 W. Kennedy Blvd #4 Tampa, FL 33606
Course Fee: $149-$1150 (Depending on Course)