Hair Extensions Salon Located in Tampa, FL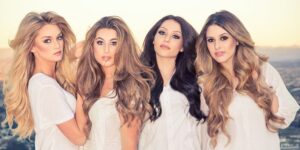 When it comes to hair extensions, choosing the right salon is extremely important. At Eyes on You Salon and Spa in Tampa, Florida, our staff is extensively trained and certified, and we use only the highest quality, 100-percent natural remy double-drawn human hair. Whether you are simply looking for longer, fuller hair or are in search of solutions for hair loss, our experienced cosmetologists are here to help you look and feel your best with all eyes on you.
Eyes on You in Tampa offers several different types of hair extensions, including Halo, Laser, I-tip, Tape-In, Clip-In and more. Our most popular option, however, is keratin-bond. A keratin bond is ideal because it is made of the same chemical protein as natural hair, expanding and contracting with the natural hair as it becomes wet or dry. No wax or glue is used, and there is no damage to the natural hair.
Some of the many benefits to using Eyes on You hair extensions include:
We can match any hair texture (straight, wavy, curly)
We have more than 100 standard colors available, and can also custom match any hair color, including highlights, lowlights, ombre, rooted, balayage, vibrant fashion colors, etc.
We only use 100-percent natural human hair that's never chemically treated
We have a variety of lengths to choose from (12, 14, 16, 18, 20, and 24 inches)
We offer glitter strands and feather locks
Eyes on You staff is trained and certified with the most popular hair extension brands:
Eyes On You Beauty®
Great Lengths®
Hairdreams®
HaloCouture®
Cinderella Hair®
Dream Catchers®
Hairtalk®
Once your extensions have been applied, your cosmetologist will tell you exactly what you need to do to properly care for your hair. She'll inform you of the best products and styling tools to use and will help you set up a schedule for maintenance appointments. Depending on what type you and your Eyes On You stylist choose to apply, and given that your extensions are cared for properly, they can last up to six months without any frizzing, matting, shedding, or color damage.
For more information about hair extensions, or to schedule a complimentary consultation at Eyes on You in Tampa, FL, please call us or book online today.