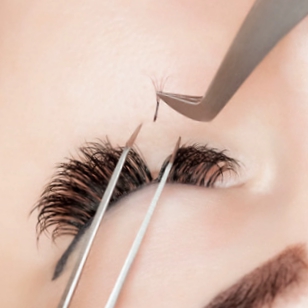 Here at Eyes On You Salon and Spa, Tampa, FL. we excell in precision lash extensions that are non-damaging and importantly, unique to your style. We offer two types of lash extension styles: Classic and Volume; but, can create a hybrid form to your desired length, volume, and style.
What makes our lash extension process different from other salons is our execution of the lash extension process. Many lash extensions get the reputation that they can be damaging to your lashes and ruin their natural volume and length. However, with our highly trained and experienced lash technicians, we prevent this from occurring. Here is how it works…Our lash technicians adhere the lash extensions to each of your natural lashes and allow the correct amount of time for the adhesive to dry completely. We do this specifically because this prevents the adhesive from adhering your other eyelashes. Doing so also eliminates heavy weight on your eyelashes, preventing fall-out and further damage/breakage.

Here at Eyes On You Salon and Spa, Tampa, FL we offer two types of styles of lash extensions: Classic and Volume. Our Classic Lashes is where your lash technician adheres a single eyelash extension to one of your natural eyelashes for that full, subtle, natural look.
In contrast to the Classic Lashes, our Volume Lashes process is where your lash technician adheres three or more lash extensions to one of your natural lashes for a more dramatic and bold look. However, don't think those are your only two options. With our highly trained lash extention technichian, we can also create a hybrid look to fit your desired style and length!
Our eyelash extensions add length and volume without the hassle of using mascara or an eyelash curler. How great is it to wake up with full, beautiful lashes?! Our lash extensions last about 2-3 weeks before you need a fill. To keep your lashes in good shape until your next fill, it's best that you DO NOT get them wet for 24 hours after application, avoid cosmetics and creams that contain oil around the eye, and most of all remember that your lifestyle and activities such as hot yoga, swimming, hot tubs, steam rooms will affect retention.

Book your appointment today to get those gorgeous lashes of your dreams: call or text us at (813)-434-0234 or use our 24/7-online booking service at https://eyesonyoutampa.com/book-247