Wedding Hair and Makeup Provided by Eyes on You in Tampa, FL, or on Location at Your Event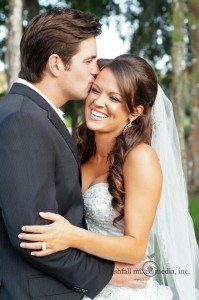 When brides need wedding hair and makeup services for themselves and their wedding parties, they turn to Eyes on You Salon and Spa in Tampa, Florida. Eyes on You has specialized in weddings since its very start in 2003, and today, they are recognized trend setters in the wedding industry. Being an active member of the Florida Signature Bridal Affair and The Perfect Wedding Guild, and featured on sites like Marry Me Tampa Bay, The Knot, Wedding Wire, and Style Me Pretty, their talented team of licensed professionals are highly sought after for weddings and special events both locally and beyond. While there are countless salons to turn to for wedding services, what brings so many brides to Eyes on You is our quality of work, professionalism, and attention to every detail.
On the most important day of your life, look and feel your best with all Eyes on You! Eyes on You wedding services include a wealth of options for:
The bridal party – Eyes on You is happy to provide whatever services your bridal party needs. In addition to hair and makeup, other popular services include hair extensions, lash extensions, and spray tanning.
The bride – Our experienced licensed professionals are all artists – we can help you determine what looks will best suit you, taking skin tone, face shape, hair style and length, and all other aspects into account. We offer wedding hair and makeup trials that will allow you find your perfect look prior to the big day.
The groom and groomsmen – At Eyes on You, we believe that the men deserve to be pampered and have their needs met just as much as the women. We provide precision haircuts, styles, and tanning. We can also provide semi-permanent color that takes just five minutes, which is a popular option for men who want to cover up their gray without a lengthy stay in the salon.
Eyes on You wedding services are available at either our Tampa, FL, salon and spa or onsite at your event. Furthermore, our team has the ability to travel anywhere.* Whether you're from out of town and are planning a wedding in the area, or are local and need a team you can trust for your destination wedding, Eyes on You can be there for your special day.
For more information about our services, including wedding hair and makeup and all other salon and spa options, please contact Eyes on You today.
*Travel fees vary based on location and travel expenses.