Wedding Makeup Artist in Tampa, FL – Eyes on You
For a trusted wedding makeup artist in the Tampa, Florida, area, brides turn to Eyes on You Salon and Spa. We know what all brides want and deserve on the most important day of their lives – to have all eyes on them. And with our highly experienced team of trained and certified cosmetologists, we never let our brides down.
At Eyes on You, our makeup artists cater to brides and their entire wedding party. All of our services are available either in the salon or onsite for the big day, whether the event is in Tampa, FL, or beyond.* Prior to the wedding day, we typically hold a makeup trial for the bride, which involves the following:
The bride brings in pictures or an idea of what she would like for her wedding makeup
The bride's wedding makeup artist will then recreate that look
If the bride is unsure of what type of makeup style she would like, we can help decide what will look best for her based on her skin tone, face shape, hair color and length, etc.
Once the makeup is applied, we make any needed tweaks to get the look exactly how the bride envisions
We take a number of pictures and notes so that on the day of the wedding, the makeup artist can precisely recreate what the bride fell in love with
This appointment usually also includes a trial run for hair, if the bride will be receiving that service.
On the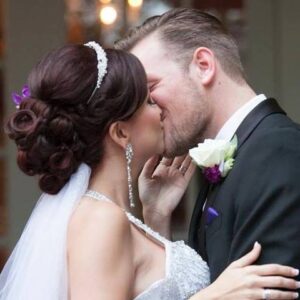 day of the wedding, Eyes on You can be on location for the bride, and can also provide makeup application and hair styling for the entire bridal party, no matter the size. Our talented cosmetologists use only HD-photo-finish-ready makeup, which can be airbrushed or applied using traditional brushes. We are also trained and certified in the art of henna.
To speak to a wedding makeup artist at Eyes on You, please contact us today. We look forward to helping you look and feel your best with all eyes on you.
*Travel fees vary based on location and travel expenses.