Volume Vs. Classic Lash Extensions
You are the only person in the world that has your eye shape! Sure, we can group you into a category (round, small, doe eyed, etc.) but nobody's eyes are truly the same! Let us help you find which lash extensions you think would be the best for you!
We offer two of the very best types of Eyelash Extensions! There's Volume lashes and Classic lashes! Volume lashes are thicker, and they do just what their name entails… Add Volume! Our Classic Lashes still add length and volume, which is what everyone is looking for when looking for good lash extensions! The difference is that our Classic Lashes aren't as thick as the Volume Lash! Therefor, these lashes may be for someone that wants something more natural looking, but still adds great length.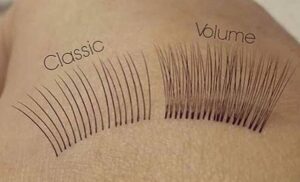 What are Volume Lash Extensions?
With traditional classic lash extensions, we could only safely attach one eyelash extension to each of your single natural lashes. We can only apply extensions on how many natural lashes you have. This can be disappointing if you don't have many natural lashes yet desire a thicker look. Our new Volume lashes give even "natural-lash-challenged" clients the option for volume they have never had before!
Volume Lashes is a revolutionary lashing technique where 2 to 6 super fine extensions .07mm thickness are applied to one single natural eyelash – SAFELY
Here is a photo of a guest with Volume Lashes Extensions!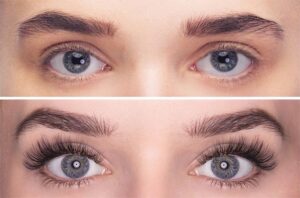 What Are Classic Lash Extensions?  Classic Lash Extensions are a glamorous way to extend the length and thickness of natural eyelashes.  Unlike traditional false strip lashes, lash extensions can be worn daily, without nightly removal.  Because each tapered, synthetic lash, sized between 1.5 – .2 mm, is bonded with a medical grade adhesive to a single natural lash by isolation, the final result is effortless glamour and difficult to detect even close up.  They look and feel so natural that you will have everyone guessing if they are real.
Here is a photo of a guest with Classic Lash Extensions!